Joseph is back on tour to the Netherlands!
---
---
---
Recent Performances:
---
Gone Too Soon
Lost legends come alive through their greatest hits! With Timothy Moloi, Joseph Clark, Mariechan and the Jhb Youth Orchestra
Date: 20-21 Oct 2018
Venue: The Lyric at Gold Reef City
---
---
The Music Of QUEEN
Read all about the show at these links: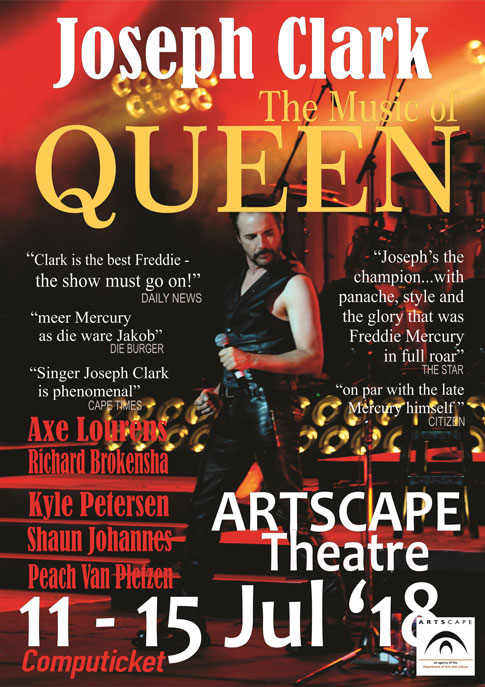 ---
The Music Of QUEEN
Date: 20-22 June 2018
Venue: Sun Arena, Time Square, Menlyn Maine - Pretoria
---
The Music Of QUEEN
Concerts under the stars. Two stunning open air concerts in the Omaruru river with Corlea Botha on Friday night and Joseph Clark on Saturday night.
Premium, Standard and Picnic seats available.
Date: 1 September 2018
Venue: Omaruru Arts Festival - Main Stage - NAMIBIA
Bookings: Send an email to: omaruruart@gmail.com or phone 081 236 2951
---
Classics with Corlea Botha, Joseph Clark, Jannie Moolman, Amira, Monique Steyn, Tarryn Lamb and Touch of Class
---
The Capital Singers starring Joseph Clark
Rewind back 2 the 80's
---
Elton John Tribute, The Legends, A Queen Tribute
Date: 21 - 28 April 2018
Venue: MSC SINFONIA - Cruise from Seychelles to Durban
---
A QUEEN Experience - 11-25 November 2017, The Netherlands, Belgium, Germany
Joseph Clark, lead vocalist extraordinaire and his star studded band are back in Europe for only 11 performances. In 2011 the group played at The Gelredome to a packed stadium of 30 000 Queen-fans. They had theatre runs in 2011 and 2015 at The Rai in Amsterdam and The World Forum Theater in The Hague and in 2016 they performed in the royal gardens at Paleis Soestijk.
Date: Sat & Sun 12 Nov - Egmond aan Zee, NL
Venue: Hotel Zuiderduin | Zeeweg 52, 1931 VL | Tel 0031 72 750 2000
Time: 20:00 (2 sets with intermission)
Date: Mon 13 Nov - Utrecht, NL
Venue: TivoliVredenburg |Vredenburgkade 11, 3511 WC | Tel 00 31 30 760 6777
Time: 20:15 (2 sets with intermission)
Date: Tue 14 Nov - Bergen Op Zoom, NL
Venue: Theater de Maagd, Grote Zaal | Grote Markt 32, 4611 NT | Tel 0031 164 280 500
Time: 20:00
Date: Thu 16 Nov - Scherpenheuvel, BELGIUM
Venue: Rode Zaal, Den Egger |Aug Nihaulstraat 74, B 3270 | Tel 0032 13460650
Time: 20:00 (2 sets with intermission)
Date: Sun 19 Nov - Leeuwarden, NL
Venue: Schaaf City Theater | Breedstraat 48, 8911 GJ | Tel 0031 58 215 8003
Time: 15:00
Date: Tue 21 Nov - Düsseldorf, GERMANY
Venue: Savoy Theater, Graf Adolf Strasse 47, 42010 |Tel 0049 211 830 8900
Date: Wed 22 Nov - Raalte, NL
Venue: Hoftheater, Voorhof 2, 8102 MH |Tel 0031 0572 361 361
Time: 20:15 (2 sets with intermission)
Date: Thu 23 Nov - Zierikzee, NL
Venue: Nieuwe Kerk, Kerkplein 1, 4301 EE | Tel 00 31 111 420 517
Time: 20:15 pm (2 sets with intermission)
Date: Fri 24 Nov - Leoploldsburg, BELGIUM
Venue: Cultuur Centrum, Kastanjedreef 1, B 3970 | Tel 0032 11 34 65 48
Time: Start: 20:15 (2 sets with intermission)
Date: Sat 25 Nov - Hengelo, NL
Venue: Rabotheater, Beursstraat 44, 7551 HV | Tel 0031 74 255 6777
Time: 20:00 (2 sets with intermission)
---
Joseph Clark - The Legends
---
The Music Of QUEEN
---
Date: 22-30 Oct 2017
Venue: Join Joseph on the MSC Sinfonia
---
ECHOES OF QUEEN
Composer Dirk Brossé conducts this concert of Queen Classics, sung by Joseph Clark, whose voice strongly reflects Freddie Mercury, together with Jennie Lena, known for The Voice Of Holland.
Pura Vida is a great success every year. Visitors with picnic baskets and wine brought along themselves nestle on the edge of the Oldambt lake. During the open-air concert, the slowly changing color of the sun disappears during the evening behind the beautifully lit transparent stage. The dozens of boats on the water make the picture more than complete. Last year, as many as 10,000 visitors visited the Rolling Stones concert of the NNO on the banks of the Oldambt lake. This year, Queen is on the show!
Perhaps more than the Stones, Queen proved that the line between classical and pop is sometimes thin. Band members Freddie Mercury, Brian May, Roger Taylor and John Deacon were all four brilliant composers and songwriters. The instrumental layers and harmonious findings in their compositions translate perfectly into a major symphonic orchestra instrumentation. Arranger and conductor of the concert Dirk Brossé has made wonderful arrangements for Queen's biggest hits. Bohemian Rhapsodie, The show must go on, We will rock you, Somebody to love and other Queen classics are sung by Joseph Clark,Jennie Lenan and the South African soprano Yollandi Nortjie.
The free-accessible concert will start Saturday evening September 2nd at 7.30 pm and the hits will continue to sound until about 22:00. Anyone who wants to come by boat can be found just a stone's throw from the stage. For visitors on the shore, chairs can be rented for a small amount or you can take your own seat. Come on time due to the anticipated crowds!
Date: 2 Sep 2017
Time: 19h30
Venue: Pura Vida Outdoor Concert, Blauwestad (Groningen)
Tickets: Free entrance
---
17


November 2016 | Leeuwarden | De Harmonie

19


November 2016 | Assen | Theater De Nieuwe Kolk

21


November 2016 | Amsterdam | Concertgebouw

22


November 2016 | Rotterdam | De Doelen

24


November 2016 | Utrecht | TivoliVredenburg

25


November 2016 | Drachten | De Lawei

26


November 2016 | Groningen | De Oosterpoort
Concert Details
Genre
Cross-over met popmuziek
Dirigent
Dirk Brossé
Zang
Joseph Clark
Zang
Jennie Lena
Zang
Yollandi Nortjie
Arrangementen
Dirk Brossé
Licht
Nico de Rooij
Regie
Elzette Maarschalk



Tribute to Freddie Mercury

Op 24 november 2016 is het 25 jaar geleden dat Freddie Mercury, de legendarische popzanger en frontman van de rockgroep Queen, overleed. Overal ter wereld worden festivals en concerten ter ere van hem georganiseerd. Voor het Noord Nederlands Orkest dé perfecte gelegenheid om het concert Symphonic echoes of Queen uit 2009 opnieuw uit te voeren. In opdracht van het orkest maakte componist Dirk Brossé deze spectaculaire symfonische bewerking van de mooiste Queen-hits, zoals Bohemian Rhapsody, We will rock you en Somebody to love. Het was een grandioos succes. Hebt u dit concert destijds gemist of wilt u het juist graag nog een keer meemaken? Dit is uw kans! De songs worden onder andere vertolkt door Joseph Clark, die qua zang een verbluffende gelijkenis met Freddie Mercury vertoont.

Over Jennie Lena

Jennie Lena stond in het voorprogramma van Joss Stone, trad op in het legendarische Apollo Theater in Harlem (New York) en ging meerdere keren op clubtour door Europa. Ook verzorgde ze optredens in Azië en de Verenigde Staten en was ze regelmatig te gast bij programma's als Giel (3FM) en De Wereld Draait Door (NPO 1). In 2016 haalde ze de finale van The Voice of Holland.

Over Joseph Clark

Joseph Clark is geboren in Amarillo, Texas. Na een balletcarrière in New York en Salt Lake City sloot hij zich aan bij de PACT Ballet Co. in Zuid-Afrika, waar hij onder andere hoofdrollen vertolkte in het Zwanenmeer en Romeo & Juliet. Als zanger vervolgde hij zijn carrière met diverse symfonische orkesten door Zuid-Afrika en bij diverse evenementen in het land. Zo trad hij op tijdens de 85e verjaardag van Nelson Mandela. Met zijn All South African Band staat hij in juli 2016 in de tuin van Paleis Soestdijk en met het NNO treed hij vanaf november 2016 liefst zeven keer op.